Marine Engineering Research Institute
It was here that Jishi Samuel did his pre sea training.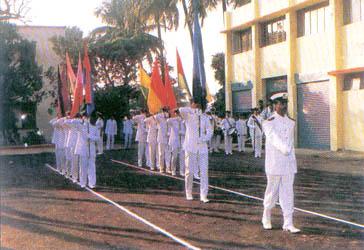 Marine Engineering & Research Institute (MERI), Mumbai erstwhile Directorate of Marine Engineering Training (DMET), with its Headquarters at Kolkata and branch at Mumbai was established in the year 1949 to impart training to the Marine Engineering Cadets. The Marine Engineering & Research Institute situated at Haybundar in Mumbai provides 1 year Pre-Sea Training (Trainee Marine Engineering (TME) course) to graduate Mechanical Engineers prior to their sailing on board, with an intake capacity of 105 candidates per batch, to enable them to go on ships as Junior Engineers.
To be eligibile for this course, the candidate should have passed engineering degree in mechanical or in Naval Architecture from an AICTE recognized Institute.
The Graduate Engineers sponsored by various Indian and foreign shipping companies are admitted to this course. The fees for this course is around Rs. 1,40,000/- including messing, uniform and accommodation. The institute is fully equipped to impart effective training in all the aspects of Marine Engineering.
Contact Person:
Shri A.K. Sehgal,Dy.Director
Marine Engineering and Research Institute
Hay Bunder Road,Mumbai - 400 033
Tel No:022-3723577
Fax No:022-3753151
E-Mail: meri-bom@giasbom1.vsnl.net.in
A few words of caution...
If this inspired you to embark on a voyage as a Marine Engineer...this is the time to ask a few questions to yourself.
Do you have the right stuff in you to become a sea dog?
It is important to understand what it takes to be a successful Marine Engineer. This is no 9 to 5 job and definitely not the career for those who long for the home at the end of the day. Once a ship sets sail, it might be months before you get back home. Most ships do not berth at every harbor and sometimes they wait for days in anchorage at the outer harbour for various reasons. You might never step on land for months at a stretch. To compensate for this, the marine personnel were given long months of holidays in early days which is again becoming a rare privilege nowadays. In modern day shipping you hardly get a couple of months as holiday. Some companies allow officers of higher posts to carry their families with them while sailing. But this again may cause concern of reduced efficiency and a host of social issues while on board.
The following quality traits are regarded as essential for a marine engineer:
Scientific temper
Physical fitness
Optimistic outlook
Organizing ability
Practicality
Ability to be a good team member
Ability to keep calm under pressure and crisis
Enjoy working with tools
Good at conceptualizing forms and structures
Knack for numbers
Excellent communication skills
Good sea legs and liking for sea travel